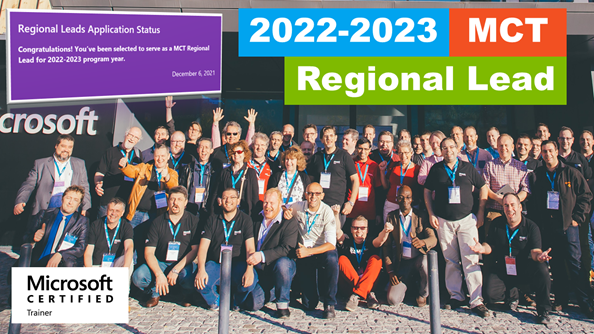 I'm excited to share that Microsoft re-appointment me as a Microsoft MCT Regional Lead for 2022-2023. I'm a MCT Regional Lead since 2015 and Microsoft keeps trusting my advice by renewing me all these years. Couldn't been prouder to help shape the program for the MCTs! The MCT Regional Lead program was created to identity community leaders to server as representatives in their regions. A Regional Lead acts has a point of contact between the local MCTs and Microsoft Learning.
Looking forward to work side-by-side with the MCT Program team and help shape the MCT program for the next years. Training is changing at a fast pace, ILT is no longer the king, micro-learning, Video-based Learning, … are all here and students no longer want to sit on a 5-day classes, but this is a topic for another post
Let's help Microsoft Learning and MCTs to achieve more! Excited for the next 2 years!