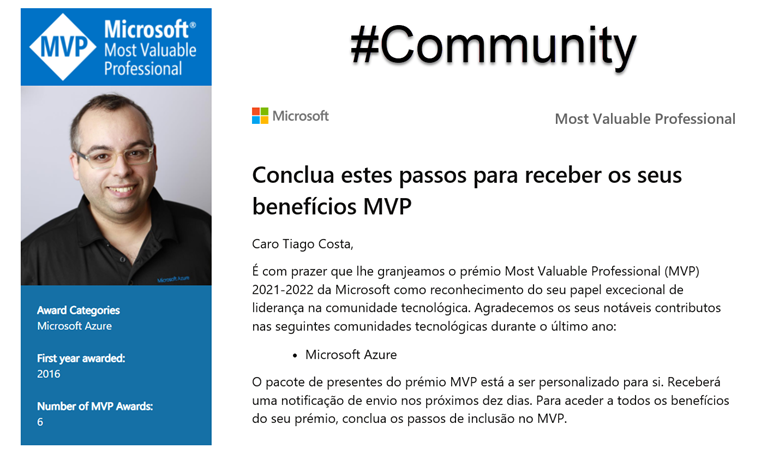 This past Thursday I received the notice that I was re-awarded as Microsoft MVP. This will be my year #6 has a Microsoft Azure MVP. I still remember the exact place I was when 6 years ago on an April 1st I got my first email saying I got awarded! I was working at a customer site in Cyprus. I just had finished to the day and had packed my laptop in the backpack. Then I got an email notification on my phone and then the phone died on me. No more battery… I was like, I must be dreaming, I turn the computer on and stay blocked looking at the computer screen for more than 10 minutes! I was speechless! This is still the feeling I get every single time I got re-awarded. Still surprised and still with imposter syndrome.
I would say it because it's what, I fell: It's and huge honor to be among such great minds of the industry!

To all my fellow MVP – You All ROCK! You are amazing and do loads for the #Community! I will not tag or mention anyone, I will for sure forget someone important for me and then I will be feeling bad! You all know who you are!
It has been a crazy year and I hope everything will start becoming normal very soon and that we can start do some in-person events! I'm ready for that!!! I reviewed what I wrote 1 year ago, about some plans for this past year. I felt pretty good… From 8 objectives I got 7 done and one more kid in between. Sounds pretty good for me. I didn't publish "loads of videos" on my YouTube channel. This is the year!
A special thanks to Cristina Gonzalez Herrero and Irene Pires. They do an amazing work managing the program at my region. Sometimes it's not easy to manage these strong opinion MVPs, but they do it amazingly well!
I would just like to end with a big thanks to the community and all the other MVP and non-MVP that do the Microsoft Communities a great place to be, learn and network!