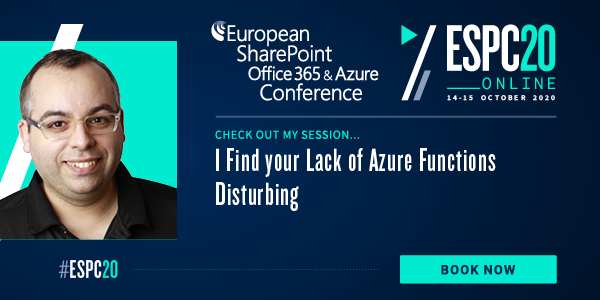 The countdown is on to ESPC20 Online – only 4 weeks to go!

This year I could be at the ESPC schedule for Amsterdam. Due to the COVID-19 pandemic this was moved to an online experience. I would prefer to be on-site and interact will all of you, but these are uncertain times and it's safer this way.
ESPC20 Online is a new virtual conference offering you affordable, world-class Microsoft 365 learning at your fingertips, from wherever you are in the world. Tune in live Oct 14th & 15th or catch up on-demand across 100+ sessions from SharePoint, Office 365 & Azure experts.
Join me for my ESPC20 Online session:
I Find your Lack of Azure Functions Disturbing

When designing and developing Azure solutions it's common to need to run some background tasks. In Microsoft Azure we have several services and features capable of creating and managing background tasks. Usually these services are based on IaaS or PaaS cloud models, but in a serverless world we have Azure Functions. Azure Functions is the cornerstone of the new serverless paradigm. In this workshop we will learn how Azure Functions allows you to develop scalable and event-drive small services. We need to focus on the Azure Function service and not with the infrastructure and scaling rules. This is taken care for us by Microsoft Azure with a per-second billing pricing model.
Benefits of Attending this Session:

Get to know the serverless paradigm
Build background tasks with Azure Functions
Integrate Azure Functions with Office 365
ESPC is always top quality and I am truly looking forward to this year's virtual conference. Check out some of ESPC's reasons why you don't want to miss this event.
Reasons to Attend ESPC20 Online

Refresh – With so much change, keep up with the product developments and practices that matter most.
Revitalize – Find new and better ways of working, to bring new energy and effectiveness to your work.
Investment – Invest in your team, yourself and your career by learning new skills or mastering current ones.
Access – With no travel, watch live or on-demand at a time that suits you from the comfort of your workspace.
Experts – Hear from the best of the best – Microsoft Product Team members, RDs, MVPs, MCMs and independent experts.
Depth – With levels catering from Level 100-400 there is something for everyone.
Network – Build your professional network online, with like-minded people from across the globe.
Vendors – Find the best solutions from the best local, European and Global providers.
Independence – Information and advice you can trust, learn what's trendy and what works.
Breadth – Attend a variety of session types across the biggest SharePoint, Office 365 and Azure topics.
Affordability – Enjoy the quality of ESPC with incredibly affordable prices and options.
I hope to see you at ESPC20 Online! Will you join me?
Keep safe friends!