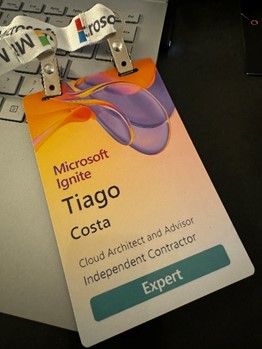 As the Microsoft world converges at the Microsoft Ignite conference, get ready to be captivated by the insights and expertise of the impressive speaker lineup. I will deliver a session about "Microsoft Certifications".
If you're in Seattle, join me this Wednesday, November 15, 2:45 PM – 3:30 PM Pacific Standard Time. If you're online, join us at https://ignite.microsoft.com/en-US/sessions/ee0c3cee-c72a-4ae3-adeb-83569526cd6f
Proctoring Lab experience

But this is not the only part I will be doing this year. I will also run two labs on Generative AI.
LAB: Implement a Generative AI Solution with Azure OpenAI Service
Wednesday, November 15 |1:30 PM – 2:30 PM Pacific Standard Time
Thursday, November 16 |2:45 PM – 3:45 PM Pacific Standard Time
Booth dual Presence: Microsoft Azure and Microsoft Learn Booth

But it doesn't stop at the speaker's podium. I will also share my expertise in the Azure and Microsoft Learn booths. This dual presence reinforces my commitment to the community by sharing my knowledge and hands-on engagement with the tech community.
At the Azure Booth, I will share real-world experiences, provide live demonstrations, and offer personalized advice on navigating the Azure ecosystem. From cloud infrastructure to AI solutions, attendees can expect to gain practical insights beyond the theoretical realm.
At the Microsoft Learn booth, I will interact with participants eager to explore the vast array of resources and educational opportunities offered by Microsoft Learn. I will serve as a source of inspiration for those embarking on their learning journeys.
Networking Opportunities:

Beyond the sessions and booths, I invite attendees to connect, share experiences, and foster meaningful relationships. Whether you're a seasoned professional or a novice in the tech industry, reach out to me, and let's interact and enrich our Microsoft Ignite experience.